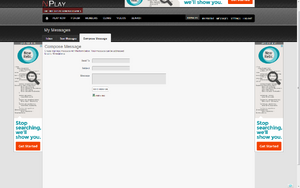 The Compose Message tab is the third tab in My Messages. This tab is located to the left of the Sent Messages tab.
The Compose Message page allows the player to compose messages that can be sent to the player's friends.
There three criteria boxes in the page:  Send To, Subject, and Message.
This box is required in order to send a message. To select friends, type in the name of a friend. The player can either type the full name and press enter or type a partial of the name and select the player from a descending list.
Note:  The player can choose up to 10 friends to send a single message to.
This box is optional in order to send a message. This is the subject of the message, what the recipient must click on to access the message.
Note:  If the player does not complete the Subject criteria, a (No Subject) will become the subject of the message.
This is the body of the message, what the player wants to communicate with other players.
Under the criteria boxes are a button and a link:  SEND MESSAGE and Add Video.
SEND MESSAGE:  Clicking on this box will send the message to the specified recipients. The message must have at least one recipient in order to be sent.
Add Video:  Clicking on this link will call a descending list that asks for the video source:
After clicking on a source, a criteria box and a button will be called. To add a video, type (or copy and paste) the URL of the video into the criteria box and then click on the button "ATTACH".