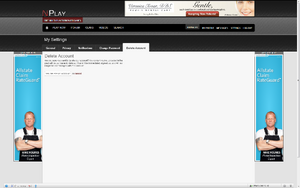 The Delete Account tab is the fifth tab in the My Settings. This tab is located to the left of the Change Password tab.
"Are you sure you want to delete your account? If you delete your account, any content you've uploaded in the past will be permanently deleted. You will be immediately signed out and will no longer be able to log into this account. If you wish to pause your account instead, you can do so for up to 90 days and you will still have access to your data when you resume your account." (NPlay site).
Clicking the "DELETE MY ACCOUNT" button will permanently delete the player's account. Clicking the "PAUSE MY ACCOUNT" button will temporary pause the player's account.
If you deleted your account it is gone for ever, but you paused it instead, it's only temporary.