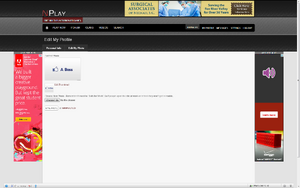 Edit My Photo is the second tab within the Edit My Profile link. This tab is located to the right of the Personal Info tab.
In the Edit My Photo page,players can change their avatar photo.
Current PhotoEdit
Located at the top of the page is the player's current avatar or the default avatar.

Edit ThumbnailEdit
The Edit Thumbnail link allows the player to crop their photo.
Photo RulesEdit
NPlay has one rule for Photos:
Choose New Photo - Remember it must be 'Safe for Work'. So if people open the site at work or school they won't get in trouble (NPlay site).
Choose FileEdit
The Choose File button allows the player to upload a saved photo from their computer to use as their avatar.
At the bottom is a button "Save Photo" and a link "remove photo".
The "Save Photo" button will save the photo selected and will be used as the player's avatar.
The "remove photo" link will remove the player's custom avatar and replace it with the default avatar.