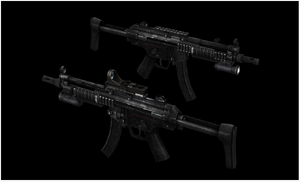 The
Flashlight
is a
tactical
attachment
for all firearms. 
General Information
Edit
The Flashlight is positioned on the barrel of the gun, increasing visibility in darkness, although it does not increase accuracy. The Flashlight also increases recoil.
| All Firearms | Value |
| --- | --- |
| Cost | $600 |
| Recoil | +2.0 |
| Recoil zoomed | +1.0 |
Noticeable Features
Edit
The Flashlight, like all Tactical attachments, is seen by the player.
The light from the flashlight is visible to teammates and opponents, meaning it can alert opponents and give away your position if you are hiding or turning corners.

The main purpose of the Flashlight is to increase visibility in dark areas but can also blind the opponent; impairing their accuracy.
The flashlight is a model of the Streamlight TLR-1 Weapon light.