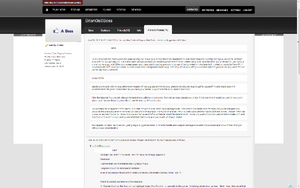 The Forum Posts tab is the fifth tab in the My Profile page.
The Forum Posts tab displays all of the player's posts on the NPlay forums.
Each post is seperated by a horizontal rule. A time stamp of the date, time, and time zone is shown at the upper left of the post. In the upper right is the topic and the forum.
At the bottom of the page is a link "Next" to move to the next page. The link "Previous" will appear when on any page besides the first.