The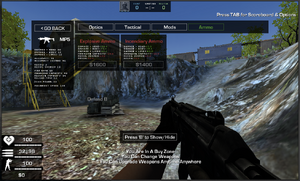 Incendiary Ammo
is an
ammo
attachment
 available for all firearms. 
General Information
Edit
Incendiary Ammo increases damage to all body parts (most significantly to the body), but also increases recoil and decreases Magazine Capacity.  It is also recommended to be used with the Extended Clip mod which partially cancels out the decreased ammo capacity (-5.0 Magazine Capacity).
It is recommended to use this with the M1014 or M249, or just if you don't feel confident with landing headshots.
Incendiary Ammo costs $1400 for all firearms.
MP5, M4A1
Magazine Capacity
-10.0
Damage - Head
+3.0
Damage - Body
+5.0
Damage - Limb
+3.0
Recoil Zoomed
+0.5
Recoil
+1.0
M110
Magazine Capacity
-2.0
Damage - Head
+5.0
Damage - Body
+7.0
Damage - Limb
+5.0
Recoil Zoomed
+0.5
Recoil
+1.0
M1014
Magazine Capacity
-2.0
Damage - Head
+3.0
Damage - Body
+5.0
Damage - Limb
+3.0
Recoil Zoomed
+0.5
Recoil
+1.0
M249
Magazine Capacity
-25.0
Damage - Head
+3.0
Damage - Body
+5.0
Damage - Limb
+3.0
Recoil Zoomed
+0.5
Recoil
+1.0
M9A1,MP7
Magazine Capacity
-5.0
Damage - Head
+3.0
Damage - Body
+5.0
Damage - Limb
+3.0
Recoil Zoomed
+0.5
Recoil
+1.0
Noteable Features
Edit