Cut Content
This article is about content that was removed from the game.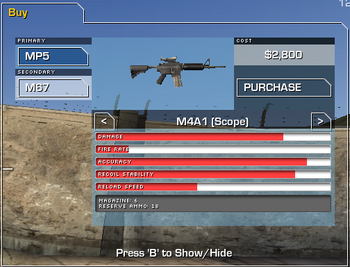 See M110 for current weapon.
The M4A1 (Scope) is a sniping rifle removed from the game. It was extremely efficient at long range although it could be used at shorter ranges as well. The first person mode zoom was unique compared to most other games. Rather than encompass the entire screen within the scope, the scope only appeared on the right hand side, allowing the user to scan for enemies on the left side of the screen.
Stats of M4A1 (Scope) from 08 March 2012
Parameter
Value
Cost
$2,800
Damage headshot
80
Damage bodyshot
40
Damage limbshot
30
Fire rate

(?)

2.8
Max damage per second
224
Accuracy/Zoom accuracy
90/100
Recoil/Zoom recoil
6/2
Magazine ammo capacity
6
Reserve ammo capacity
18 (24 bullets total)
Reload time
2.7 seconds
Movement speed
100%
The M4A1 (Scope) was removed in the version 1.7.1 and was replaced with M110. Only Classic Version