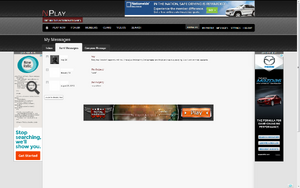 The Sent Messages tab is the second tab in My Messages. This tab is located to the left of the Inbox tab and to the right of the Compose Message tab.
The Sent Messages tab features all messages sent to other players by the player. The Format is identical to that of the Inbox tab.
At the top of the page (below the tabs) is a notification that informs the player of new messages and total messages.
Below the notification are the messages:
On the left is the player's avatar and name.
On the right is the subject and body of the message.
To the left of the player's avatar and name is a box. Clicking on this box will select the message.
Below the messages is a button called "DELETE SELECTED". Clicking on this box after select one or more messages will delete the messages from the player's inbox.