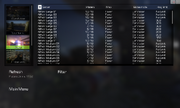 Servers are used to run instances of BeGone on. Servers are divided by tabs, and all servers in one tab run the same map. For each individual server, the name, size, maps, game mode and ping limit are adjustable by the developers. Servers are currently hosted in Atlanta (USA), Chicago (USA), Seattle (USA) and Amsterdam (Netherlands, Europe)
| Server Type | Max Players |
| --- | --- |
| Duel Server | 2 |
| Team Duel Server | 4 |
| Mini Server | 8 |
| Medium Server | 12 |
| Large Server | 16 |
| Mega Server | 24 |
The size of a server can be seen by the prefix of the server name ("Duel Server 2"), and by the amount of player slots.
The filter, located on the bottom of the server list, allows hiding undesired servers. The filters are the following:
Hide empty servers (unchecked by default)
Hide full servers (unchecked by default)
Server location (all, Atlanta/USA, Chicago/USA, Seatle/USA or Amsterdam/NL)
Ping limits (all ping limits, no ping limit, 100, 150, 200 or 300)
Clan Servers
Edit
A former feature, introduced to the game on July 31, 2013, added 4 new servers to each map, for registered players only, featured at the top of the server list. Each server was named after the clan which has the most kills. The default server name was "Clan Server" + a number from 01 to 04.
This feature was announced by Dmage. One of the features was to allow the clan members to moderate servers on their own in a future update.