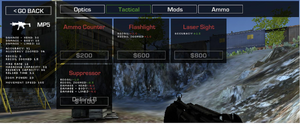 Tactical is a tab in the store that has four
Attachments
available for purchase: 
Ammo Counter
,
Flashlight
,
Laser Sight
, and
Suppressor
.
All tactical attachments cost the same amount of Cash for each weapon except the Suppressor.
The Suppressor cost varies for a few firearms:  $600 for the M9A1, $1000 for the MP7, and $1100 for all other firearms.