WarLand
Information
Developer(s)
Unknown
Game engine
Unity Web Player
Current version
1.0.3
Release date(s)
2015
Players
1000000
WarLand (also referred to as BeGone: Warland 2 in NPlay's game tab) is a first-person shooter game by NPlay. It was released in 2015, and is largely based on its early prototype, the First Person Shooter Project.
The game's scene takes place in a space station base. Similarly to BeGone, there are 2 teams- team red and team blue- and the objective is to kill as many enemies as possible, during battles that last 10 minutes each. Each kill rewards in 100 exp, and when finishing a battle, 1,000 exp are earned. These experience points are used as currencies for unlocking new weapons.
Controls and settings
Edit
The game has its own default settings, such as volume, resolution and mouse sensitivity, and also cover the control keys when playing. The default control keys are the following:
W S- forwards/backwards.
A D- stare left/right.
Space- jump.
Shift- run.
C- crouch.
Z- invisibility.
X- thermal vision.
F- enter/exit fullscreen.
Esc- exit fullscreen.
E- activate spaceship.
Tab/P- view scoreboard and show "Options" and "Leave Battle" buttons.
Each player has its own profile, where the player's nickname can be changed, and where the following stats are also displayed:
Total Kills
Total Deaths
Total Kill Assists
Kill/Death Ratio
Total Time Played
| Weapon | Magazine size | Rounds left | Damage | Unlock price (exp) |
| --- | --- | --- | --- | --- |
| Typhoon AR (Assault Rifle) | 40 | 400 | 10 | 0 |
| Plasma Shotgun | 8 | 60 | 50 | 15,000 |
| Flamethrower | 50 | 300 | 15 | 50,000 |
| Raven Rocket (Rocket Launcher) | 5 | 15 | 51 | 200,000 |
Spaceship
Edit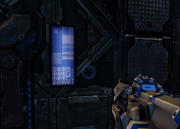 The same spaceship that was introduced in FPSP also exists in the game, which can be activated through a control panel. Unlike the FPSP shacheship, which shot down any player in sight, the players are the ones controlling the ships' missiles, which allows players to earn mre EXP by hitting opponents. The spaceship itself flies automatically once activated, and cannot be contolled by the player. Activating the spaceship is done by pressing "E" while standing next to its control panel, found inside the main building. The activating player will stay next to the panel and see the view from the spaceship. Controlling the spaceship costs 100 EXP, and ends when the player controlling the ship is killed.
When loading, random tips for the game are displayed (similarly to BeGone's tips):
It will take time to download game only if you are first time player, next time it will be loaded in a few seconds.</Setting>
All controls can be customized. You can change them in the Options menu.
Press T for chat. Press F to enter Fullscreen.
Press TAB to check team scoretable or to leave the game.
Graphics are set on Medium by default. You can change them in the Options menu.
Version history
Edit
| Version | Release date | Forum topic |
| --- | --- | --- |
| 1.0.1 |  ? | N/A |
| 1.0.2 | April 11, 2015 | 449 |
| 1.0.3 | April 18, 2015 | 588 |
External links
Edit
Community content is available under
CC-BY-SA
unless otherwise noted.